Immersion
Mercy Focus on Haiti (MFOH) regards the Immersion Experiences it has already provided for over 100 adults and students in Mercy schools and colleges/universities as opportunities for them to go to Haiti and "immerse" themselves in the daily life, experience, and virtues of our sisters and brothers living in the poorest country in the western hemisphere.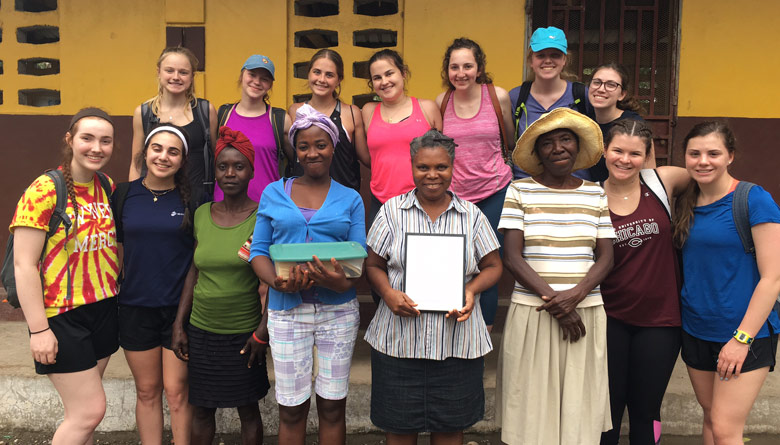 This "immersion" occurs in week-long service trips to northern Haiti where MFOH partners with many devoted Haitian leaders. When these trips are not possible – because of US State Department warnings and grave civil and economic disruption in Haiti – "immersion" experiences are brought to the United States through MFOH's communications and its promotion of various MFOH learning activities related to our friends in Haiti. Either way, American adults and students can come to respect the poverty, resilience, hopefulness, and creative spirit of the Haitian people.
They learn what it actually means to be "ultra-poor" and to not eat every day; they learn what food insecurity and water insecurity really mean in a Haitian person's life; they see the Haitian reverence for soil, water, trees, and family animals; they witness the strong commitment of Haitian men and women to the education of their children and themselves in ways that will improve their current and future lives; they witness Haitian people caring for the Earth and creating ecological actions and systems (solar panel installations, reforestation projects, cisterns for rainwater harvesting, composting toilets) that mitigate some of the causes and increasingly disastrous effects of our global climate crisis.
Through all this "immersive" learning, however brief, they develop deeper bonds with our Haitian family, and undergo what they say is "a life-changing experience." Their understanding of our Gospel obligations is deepened, and they recognize the equality, goodness, courage, and inventiveness of their no longer "distant" Haitian brothers and sisters.
Haitian Immersion Experiences occur through travel to Haiti or by MFOH's bringing Haiti to the United States through advocating stateside learning activities. These learning activities – for example, reading Steven Werlin's To Fool the Rain or the novels of Haitian-American Edwidge Danticat; studying the negative effects of malnutrition in Haitian children; learning the self-empowerment achieved by Haitian women and their families in the MFOH-supported "Pathway to a Better Life" program; or listening to a lecture by the Haitian PBS White House correspondent Yamiche Alcindor — can enrich the lives of all who participate and enlarge our merciful embrace of the whole human family.
Anyone wishing to participate in this wonderful and renewing expansion of his or her neighborly love is invited to get in touch with MFOH's Immersion Committee by contacting Andrea (Andi) Healy at andijhealy@aol.com.
"Empowerment. That would be the word that comes to mind when I think about MFOH and my immersion experience in 2018.  I witnessed empowerment in the woman I met from CLM as she showed us her newly constructed home, in the people of the agronomy center, as they showed us their community gardens, and in myself, as I sat there atop a mountain in Gros Morne on Easter morning, looking out at the beautiful landscape and realizing what a gift it was to spend a week meeting so many strong, driven, and passionate people from Haiti. I am eager to stay involved in any way I can." Elizabeth Hasson
"Our mission trip to Gros Morne with Mercy Focus on Haiti was an invaluable experience for our school community. We left with a much greater understanding of the unjust and systematic poverty that exists in our world and how we can partner with these countries to help bring about meaningful change." Michele Gordon
"I enjoyed my time in Haiti, and I believe it will be one of the experiences that I will never forget in my life. Thank you for taking care of us and teaching us knowledge that we can't learn in school during the trip. Especially, your enthusiasm for helping the poor, the children, the old and the sick moved and inspired me." Kaitlyn Wan
"The improvement in the facilities and care for the Haitian people is incredible to witness, and that is all thanks to your many generous donations and time spent planning to give them a better future." Danielle Guinasso
"Traveling with students to Gros Morne, Haiti, with Mercy Focus on Haiti was a highlight of my teaching career. Together we learned about the challenges of life in rural Haiti – safe drinking water, access to education and health care, environmental concerns, and other issues – but also about what strong Haitian women are doing to help raise up the life of the community." Paula McLaughlin
Previous
Next