The Hen House
Changing life for the people in Gros Morne
Before the hen house was operational, getting eggs to feed your family or to sell to raise money was a dangerous proposition. Individuals, usually women, would have to travel to the Dominican Republic to purchase the eggs. They would risk robbery or kidnapping during this long journey, and the eggs were no longer very fresh.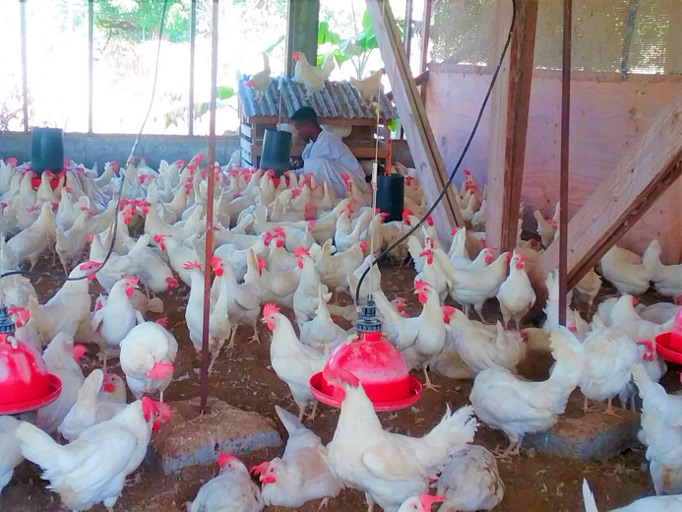 To solve this problem, the Grepen Center agronomy team in Gros Morne, Haiti, decided to pursue the idea of raising hens locally to help address the need for fresh eggs – an affordable and essential protein source.
Mercy Focus on Haiti supported the project by raising funds to help purchase the first group of 500 hens in August 2019. In November 2020, 700 new hens were purchased. The hen house is now divided into three sections to keep the new hens separated from the older hens. The younger hens get the best feed, and the older hens are sold as fryers.
In December 2020, thanks to the Water Harvesting Project, which MFOH  funded and directed, a ferrocement cistern with 1,250-gallon capacity was built near the hen house.  The cistern makes it possible for rainwater to be collected and used for the hens.
The hen house is now independent and produces 900-1,300 eggs daily.
Why is this important? We know that there is a local need for good eggs. To help their families, women from Gros Morne can buy the eggs to sell at the local market. Local merchants purchase the eggs and make egg sandwiches. The local school children benefit because they receive a hard-boiled egg every day.
Met Leny, the principal of Jesu-Marie School, explains, "The students' hair used to be yellow because of lack of protein, but now their hair looks normal." He also notices improvement in the attendance and academic work.