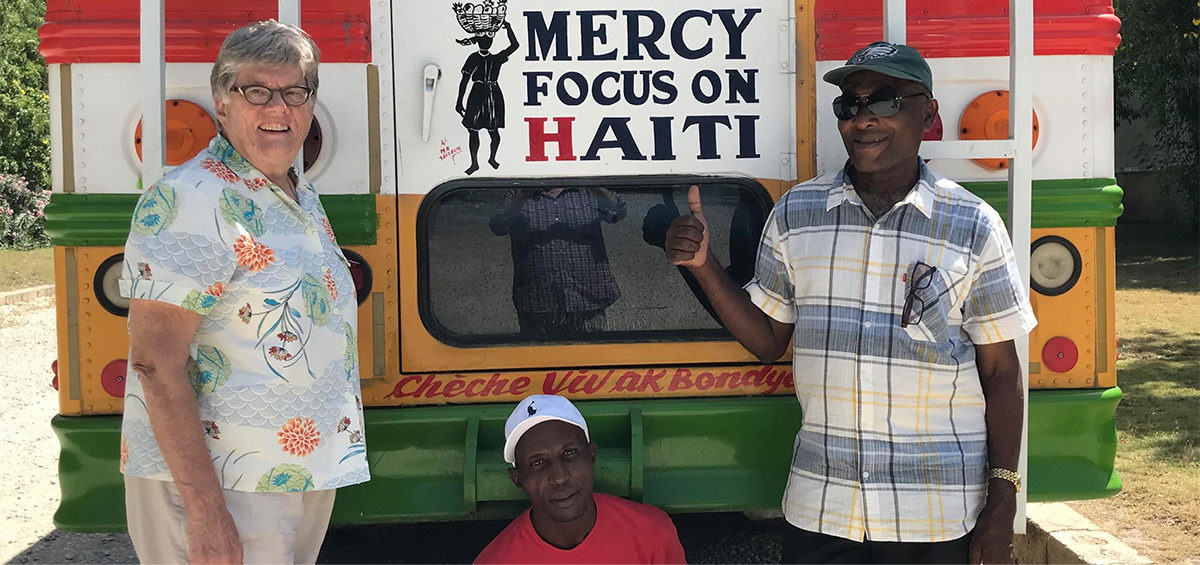 Mercy Focus on Haiti is a ministry of the
Sisters of Mercy of the Americas.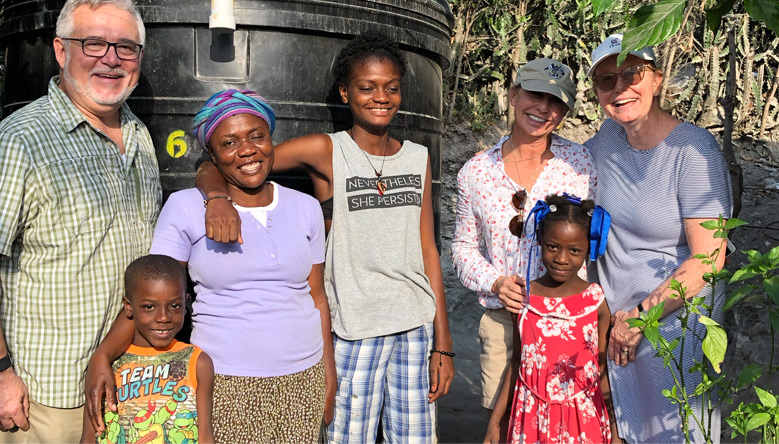 Mission
Passionate for the Gospel of Jesus Christ and witnessing to the legacy of Catherine McAuley, Mercy Focus on Haiti members are led to service and solidarity with people who are materially poor, especially those living in Haiti. We partner with the Haitian people to meet their unmet needs and we collaborate with like-minded organizations.
Our Programs
Click on each of the programs below for more information.
Stories from Haiti
"Teach a person to fish, and they will eat for a lifetime." Those words sum up the empowering philosophy behind Mercy Focus on Haiti's (MFOH) rainwater harvesting project in Gros Morne, located in Haiti's remote northwest region. Initially, the project involved procuring and delivering prefabricated 500 to 1,000-gallon rainwater collection and storage cisterns…
In Our Donors' Words…
"Participating in the medical mission trip not only allowed me the privilege of seeing the Sisters of Mercy in action, a group of women deeply skilled in their own individual crafts united by their passion for serving wherever called, it brought the entire legacy of the Sisters of Mercy to light for me."
– Thomas Cook, PhD. Mercyhurst University, Erie, PA
"I was overwhelmed by the sheer poverty in Haiti and the lack of governmental services. Mercy Focus on Haiti has a ground-up, locally partnered approach to Haitian Needs. This approach is key to everything"
– Aimee C. Gomlak, Buffalo, NY
"The CLM program doesn't just provide economic opportunity to the ultra-poor, but most importantly gives dignity to the women and their families that participate in the program."
– Chris Brown, Pope Francis Initiative; St. Gabriel's RC Church, Charlotte, NC
"My experience in Haiti was indescribable. It changed my world view and will allow me to care for people and patients with a new perspective."
– Aaryn Hammond, MD, Johns Hopkins University
"Mercy Focus on Haiti does really good work and they are positive in their mission. Teaching women to work and to save money and to build their community is fabulous. The skills those women learn will be passed on to other women as well."
– Joyce Land
"All of the work that Focus on Haiti does is certainly an inspiration. I feel so proud that my children and grandchildren are involved with this organization."
– Jim Land
"The Pathway to a Better Life program is a project dear to my heart. At last, we have found a program that works for these poor women"
– Liz Cox, Physician Assistant
"Mercy Focus on Haiti is so true to our Mercy Critical Concerns with its focus on women and children. Catherine McAuley would be happy to see us doing this."
– Sister Marge Friedhoff, RSM, Greendale, WI
"I find the nature of Mercy Focus on Haiti's work with very poor women and their families very appealing. I know my donations will have a lasting impact on the lives of some women and children who really need my help. And that's a terrific return on my investment."
– Michael Ackerman
Previous
Next